About The Photographer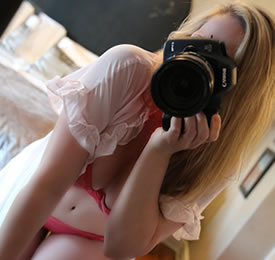 I am Megan Love, an erotic photographer with 10+ years of experience photographing adult entertainers. I have an equal amount of experience in front of the camera as I do behind it, so I have a unique perspective and good understanding of what ladies need and desire when they are looking for erotic images. While I do love all types of photography, boudoir is definitely my niche and gives me the greatest satisfaction.
The idea of becoming a serious boudoir photographer had never crossed my mind until around 2007. I've always been fascinated with art and photography as a hobby, and I had been posing in front of the camera for several years, but being behind the camera as a profession just wasn't something I thought about or believed I could do.
Then one day I was asked by a lady to take a few pictures that she could use on her website. She had become fed up with some of the sleazy, unprofessional escort photographers giving her subpar images and always trying to barter and "trade services." She was very pleased with the photographs we took, and how comfortable it was to have another lady take her pictures. We really had a great time, and it was from there that I realized that I had a knack for erotic photography and making ladies feel at ease during the entire process. That knack soon became a simple hobby, which soon became a passion. After 10+ years of adult photography under my belt, I still love it just as much today as when I first started.
1

Photography for Adult Models & Entertainers

I specialize in all adult photography niches where ladies are in search of unique, classy erotic photographs. I understand what it takes for models to succeed and stand out from the crowd. I know that the right images can not only increase your business volume, but they can also dramatically increase the quality of your clientele.
2

Pin-Up and Boudoir Photography
3

Artistic Nudes & Fetish/BDSM
Whether you are a fitness model, BBW or plus-size model, fetish & BDSM model, burlesque or pin-up type model, or just an average woman in need of professional erotic photos, I will work with you to make sure you get the images you need.
Full List of Styles & Niches
Boudoir Photography
Burlesque Photography
Vintage & Pin up Photography
Fashion Photography
Escort Photography
Fetish & BDSM Photography
Artistic Nude Photography
Adult Product Photography